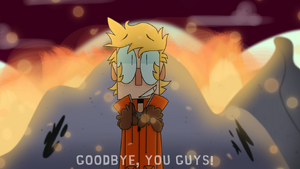 so hey. i really like south park, and doing redraws. if you wanna talk, dm me on discord. (🐐+🐟=♑#1638)
here are some random facts about me:
i'm a capricorn, i love astrology, i play undertale and deltarune alot, the south park character i relate to the most is kyle, i fucking love hellpark. if you haven't read it, you should. (https://hellpark.tumblr.com/) my favorite colors are all possible shades of green and sky blue, i have two cats, i'm the oldest of four, i play violin, i occasionally watch naked and afraid, i'm aro/ace, i'm the only good cartoonist in my grade, my favorite song is the man who sold the world by nirvana (i know the original is by david bowie, so don't @ me, lmao), butters and stan are my bbys, my favorite meme is the savage patrick, and i find this video funny 
my two favorite sp children uwu
Edit
Community content is available under
CC-BY-SA
unless otherwise noted.