We're Getting Mutants in the MCU - The Loop
Play Sound
South Park (previously South Park Studios; sometimes informally SPS or SP.cc) is the official South Park website hosted by Comedy Central and managed by South Park Digital Studios.
The current incarnation of the website includes clips from every South Park episode, a rotating schedule of free full episodes, image and sound downloads, an avatar creator, browser games, behind-the-scenes content, and the official South Park message board. Official news related to the show, including new episode press release information, are posted in the website's "Blog" section.
History
The site's earliest incarnation (2001 - 2003) was launched before the premiere of the show's fifth season and was run directly by the team at South Park Studios themselves who created the show, run in a manner similar to many early and contemporary fansites. Content included trivia, new episode previews, air schedules and exclusive behind the scenes information with the show's crew members. The site allowed for direct interaction with fans, including live chats with Matt and Trey themselves. At this stage, it was not yet officially endorsed by Comedy Central, who asked the site to remove Trey's full scripts for episodes from the show's first five seasons.
For its second incarnation (2004 - 2008) the site was re-designed heavily, featuring weekly posts about episode schedules and beginning the tradition of placing new episode information online every Sunday night before air with the ninth season. An in-depth Character Guide featured the original, rough 'Corel' character designs (used as placeholders in animation) as well as a popular production blog about the show's crew and a 'frequently asked questions' section. A new 'Downloads' section also included downloadable images and sounds from the show, as well as short QuickTime videos that included early episode 'previews', and the launch of a fully-integrated message board.
The site's third incarnation (2008 - 2014) mas first launched for beta testing during the beginning of the twelfth season. The real star attraction was the integration of the Flash-based Viacom Media Player, which allowed hundreds of video clips to be hosted and streamed directly on the website and available for off-site embedding. In addition, for the first time, the website allowed fans to legally stream and watch every full episode of the show for free online; for thirty-day spans, it also hosted the complete film to celebrate its tenth anniversary, and the show's rarely seen Unaired Pilot was also featured for thirty days on one occasion. Brand new episodes would be hosted online for a week, including an uncensored version, before being removed for thirty days for unspecified legal reasons. Featured Video Clips were curated and rotated weekly.
Though best known for the free, full episodes, the site underwent a radical style design across the board, simplified to black backgrounds with golden yellow text headings, and a new style of images that often featured close-ups of various characters. Episodes were often represented by a close-up screenshot, while promotional icons featured them against single color backgrounds, and extreme close-ups fit the new logo. The new Character Guide featured recurring characters in screenshots from the show with grayscale backgrounds to highlight them, alongside basic descriptions and tagged video clips. The browser games, and production blog continued as before, and initially new browser games, screensavers, and "Six Days to South Park" behind-the-scenes videos were also heavily featured.
The third incarnation remained consistent in style but the main page was revised around the early fifteenth season to focus on a slider and two or three simple icons instead of multiple squares, and behind-the-scenes features and browser games declined considerably around this time, and the character descriptions were no longer updated to reflect later episodes, though new clips were still tagged. The message board remained however, and frequently asked questions continued tobe answered. Towards the end of its lifespan, this incarnation became known as South Park Studios Classic, as it was known throughout 2013-2014 when it co-existed alongside the current version of the site.
In September 2013, the fourth incarnation initially debuted. Despite boasts of a new integrated Wiki and HD, uncensored versions of classic episodes from seasons 3-10, the design was highly incomplete, with some sections entirely inaccessible and multiple glitches. Due to fan outcry, the website reverted to the previous version for several months, and both options were offered upon visiting the site for over a year. The majority of the show's streaming library was still offered for free, full and uncensored, during this time.
The fourth incarnation was fully standardized in April 2014, now hosted at South Park.cc.com, alongside the announcement that beginning with the premiere of South Park's then-upcoming eighteenth season, the site would no longer offer the entire series for free streaming. A multi-year deal with Hulu meant that a rotating selection of thirty free episodes would be available on the site at all times, including brand new episodes, with the full streaming library being held behind the paywall of a Hulu Plus subscription. The site was re-titled South Park Studios - Powered by Hulu. This decision was met with a huge outcry from fans expressed their feelings primarily via social media.
In late 2015, the long-awaited update to the Official South Park Studios BBS message board took place, re-integrating the message board into the site after over a year of being difficult to access, altering the site's skin to be more legible, and restoring many features that had been lost over the years, such as allowing avatars to show expressions in individual posts, and creating a stronger link between to the main site and message board profiles.
In 2020, the site was updated again, creating a new profile system that included the message board, and other features that needed to be linked, moving the entire site to new servers that broke certain features, such as the Recent Activity page. There was a substantial outcry as fans could no longer watch English episodes outside English primary countries, with many flooding the message board asking for answers or how to fix this. In June, the Hulu deal expired and South Park instead began streaming on HBO Max. The streaming integration ended, with the full episodes hosted on the website separate from the HBO Max library, and the logo was altered to simply South Park.
Production Blog
Until 2011, there was also a South Park production blog managed by staff and crew talking about the lives of those who work on the show. While it rarely discussed South Park itself, it offered a rare look behind the Studio's doors and showed what the average crew member does during the production season.
Episode Streaming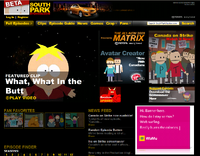 Every episode of South Park, except for "201", has been offered for streaming at South Park Studios for some period. New episodes and clips were added in the early morning hours after the day they air, with an uncensored audio track being added during the weekend, and would remain until the next week, where they would be removed for thirty days for contractual reasons. All episodes after Season Twelve were available in high-definition and with uncensored audio tracks for dialogue by adult characters and fourth graders. (Kindergarteners remain censored as young child actors often do not read actual swear words.) Small changes were and still are occasionally made to these uncensored episodes, such as removing a duplicate background characters or switching a line of dialogue.
Before the premiere of the fourteenth season, SPS often used the complete nature of available episodes as a marketing point. After the debacle surrounding "201", Comedy Central did not authorize any version of the episode to be streamed online, and the episodes "Super Best Friends" and "200", which had previously been available, were both removed and have never returned to the site. Aside these three episodes, every other episode of South Park could be streamed for free online from March 2008 until September 2014.
In summer 2014, it was announced that with the premiere of South Park's eighteenth season, the site would no longer offer the entire series for free streaming, only a rotating selection of episodes that would change weekly, powered by Hulu. Users with a Hulu Plus subscription could view all episodes, all as part of a multi-year deal. This decision was received negatively by the broader fanbase, many of whom expressed their disappointment via social media, particularly Facebook. The main positive change in this period was that older seasons were re-rendered and made available in high-definition back to the first season, and uncensored audio tracks were now available back to the fourth season.
South Park Studios also made available the full version of Imaginationland: The Movie and the Six Days to Air: The Making of South Park documentary, both for extended periods, as well as more briefly, the theatrical film South Park: Bigger, Longer & Uncut and the original Unaired Pilot.
As of 2021, thirty-one episodes are available for free on the website without an HBO Max subscription.
Clip Mixer
During early 2009, there was briefly a 'Mixer' featuring sets of shortened mini-clips and musical tracks, such as an instrumental version of the theme, that could be mashed together in a timeline, akin to Windows Movie Maker, to create short videos, or 'mixes' that fans could make available to one another. While many clip categories were based on characters, a final set of six clips would change weekly. The mixer had very limited features and did not prove popular, and was removed from the main navigation bar for a year or so before being removed entirely from the site.
Games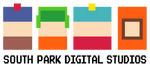 South Park Studios contained and uploaded several original games during the series' run, primarily during its second incarnation. Many of these early games were created in programs such as Macromedia Flash or Games Factory and sent in by fans, such as a Cripple Fight game, but during the third incarnation, South Park Digital Studios created original content such as K-Type and Pandemic!, both inspired by season 12 (2008) episodes. These would later take a backseat to the creation of Xbox Live Arcade games and eventually, South Park: The Stick of Truth.
Avatar Creator
While various South Park character creation tools have existed since 2000, most notably the long-running and popular SP-Studio.de by Janina Himmen, an early version of which existed at South Park Studios for several years without credit. It wasn't until 2008 that South Park Studios released their own unique Character Creation tool, the aptly-named Avatar Creator. The feature allowed creation of third/fourth graders but also for the first time, kindergarteners, Canadians, and adult men and women. These could be saved and used as avatars at the official message board, and their expressions can be changed to correspond to a user's mood during an individual post. New features were often added to correspond to new episodes, and some needed to be unlocked via tasks such as sharing to Facebook or beating a quiz, but these updates largely ceased after the fifteenth season.
The program was updated significantly in 2014 to focus on third/fourth grader characters, excluding all other body types, alongside a variety of new items and backgrounds to represent later seasons of the show, with many added as episodes are released, such as PC Principal's oakleys, Heidi's hair, or various special shirts. This version was still able to be used in conjunction with the message board until 2018.
A much more in-depth version of the program came with the 2014 South Park: The Stick of Truth video game, and a separate version was released for mobile phones. All versions still contain a few graphics created from Himmen's original program, primarily accessories.
Pop Quizzes
While trivia had been featured at South Park Studios previously, a new section of the site labeled Pop Quizzes was added in early 2012. These quizzes consisted of a variable number of questions, usually ten or twenty, and would often include short clips, testing South Park fans' knowledge with multiple skill levels, and often rewarding them with access to new items in the Avatar Creator. Quizzes were often based on a knowledge of an episode or sometimes character, with new quizzes being added after the release of new episodes.
The last new quizzes were added in late 2013, as the feature was moved to the 'Games' section and removed from the website in late 2015. There were suggested to be plans to bring back the feature or a similar one, but these have not yet come to fruition.
South Park 10
South Park 10 was a series of games created for the series' tenth season, with the first nine based on an episode from a previous season of the show and the tenth, South Park: Big Wheel Death Rally, which was similar to South Park Rally, where players collect chocolate salty balls and hit obstacles in order to unlock new characters. Cartman, Stan, Kyle and Kenny were initially playable characters with alternate costumes (Fellowship Kyle, Metrosexual Stan, Professor Chaos, AWESOM-O) as well as Butters, Wendy, Garrison, Chef, Towelie, Mr. Slave, Jesus, Satan and finally Timmy as unlockable characters.
Ass Kicker
South Park: Ass Kicker was a particularly popular fan-made fighting game based on South Park hosted at the official site. The playable characters included Cartman, Stan, Kyle, Kenny, Butters, Chef, Ms. Garrison, Satan and Jesus.
Official South Park BBS
The official South Park message board, known as the Official South Park BBS (BBS is an old internet term for 'bulletin board system') or Official South Park Forum, was created sometime prior to the show's sixth season, and runs on phpBB forum software. There are sections to discuss the show, episodes, characters, merchandise, fanart, fanfiction, Matt and Trey, or non-South Park stuff, as well as sections to create polls or for popular topics. User accounts can send private messages and use South Park avatars with each post, using expressions.
Traditionally since the twelfth season, a new 'Pre-Air' thread will be made late Sunday night as information on an upcoming episode becomes available, and be open to fan speculation until the night the episode airs, when a new 'Post-Air' thread will be opened for live commentary and discussion. These threads usually appeared before announcements were made in any other section of the site until Nall left the site.
The board is monitored by Willie "Big-Will" Westwood, who also runs the South Park Scriptorium and is currently the sole forum moderator.
SPS Chat
For several years, the website also had an IRC Chatroom which was sometimes frequented by South Park crew members including, on occasion, Matt and Trey themselves. While it's exact origin was unknown, it was retired sometime during the end of the third incarnation of the site's existence, and is no longer accessible. A second chatroom was attached for 'spoilers' if a new episode was airing at the same time as a chat, although in later periods of inactivity, this divergence became increasingly unnecessary.
The addition of a new live chat feature built into the site was considered but scrapped in favor of the South Park "Live Tweets" on Twitter that appear every year during a new season.
Competitions
There have been a number of contests and competitions at South Park Studios, often during the hiatus period between seasons, as a way to drive interest among South Park fans. Many of these early contests promised rewards to fans who could identify Hidden Visitors in the runs of the twelfth and thirteenth seasons. Later contests were often held in the spring or summer to build interest towards upcoming seasons.
South Park Bro Down
In March 2015, South Park Studios held the South Park Bro Down, a March Madness-inspired event where sixty-four South Park characters competed against each other for the title of the ultimate fan favorite. All sixty-four characters selected were divided into four major groups - two sets of kids, the adults, and non-humans, and into one-on-one match-ups for every two characters, where fans could vote. Whoever accrued more votes survived, and those with less votes were eliminated.
The eight finalists were Eric Cartman, Butters Stotch, Kenny McCormick, Tweek Tweak, Chef, Randy Marsh, Towelie, Mr. Hankey, but after two more rounds of voting it was Randy Marsh who reigned supreme as the ultimate fan favorite, bolstered primarily due to his support among casual fans.
Staff Members
The site is managed by a team at South Park Digital Studios, who work out of the same building where South Park is regularly produced but are separate and work independently from those involved in the day-to-day process of the creating the show. The official Art Department that works on the show does, however, submit all of the character and location images featured, based on editor requests. Other contributors are known to exist and run different parts of the site but their identities are unknown.
The site was originally managed primarily by Breayle, who was later promoted to another position at South Park Studios, and who sometimes submitted fan questions directly to Trey and Matt during her time in charge.
From 2006 until 2018, the site's management was primarily run by Nall, the South Park Studios Director of Technology, who often personally interacted on the message board to publish new episode information and push out the press images, and was also responsible for some of the technical issues with the website as well. He resigned his position on favorable terms shortly before the twenty-second season began to pursue new challenges.
Another site administrator is named "Butters' Dad", and animation director and now producer Eric Stough occasionally posted to the message board in its early years under the username "Butters", sometimes even sharing Matt and Trey's feelings about fan matters. "South Park Studios"-titled accounts at the forum were confirmed to be official by Nall, and do not appear to be connected to a single crew member at the studio.
There are no known remaining staff members, as the fan contributors both left in 2019.
External links