Shit South Park Fans Say is one of the dozens of parodies created and shared in January 2012 making light of many different cultural stereotypes. The video consists of multiple quick cuts and one-liners to poke fun of how South Park fans behave.
Transcript
Edit
(Stroking South Park plushies) "I love you guys."
-
"Craig and His gang should get more screentime."
-
"I think I'm going to go read Homestuck."
-
(Laughs) "I love this episode."
-
"Ugh. I wish we'd all just stop focusing on shipping and enjoy the show."
-
"If you don't ship it, then screw you."
-
(Crying) "This episode is breaking my heart."
-
"Everyone in this fandom is such a drama queen."
-
"I love you so much! Everyone is this fandom is so sweet."
-
(Opening package) "Aw sweet! My Kyle hat came in!"
-
(Slamming computer keyboard) "Piss out my ass!"

-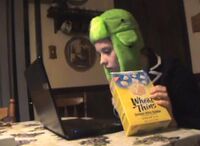 "Kyle, you sexy Jewish man!"
-
"Oh Token, you sexy chocolate man!"
-
"Craig, you sexy nasally man."
-
(Stroking computer screen) "Christophe!"
-
(Lipsyncing to "Landsline" while crying)
Popularity
Edit
The video was posted on Tumblr by its creator and quickly spread throughout the South Park fandom, earning approximately 300 notes.
Community content is available under
CC-BY-SA
unless otherwise noted.