Cartters (also known as Cutters and humorously Buttman) is the romantic pairing of Butters Stotch and Eric Cartman.
Origin
Some fans say that this ship started in the early seasons, when Butters was a minor character, in "Cartman's Silly Hate Crime 2000" (S4 E2) Butters says that "Cartman's ass is unique and magical", and besides those on the sledge, he is the only one of the rest of the boys who is fell happy with Cartman's return from jail;
The pairing has received several nods in canon from Butters' side, but not generally from Cartman, because Cartman has a personality of not showing much affection, but even so there are several times when Cartman is concerned and affectionate with Butters.
The foundation of Butters and Cartman's relationship has largely been driven by Butters' kind, earnest desire to listen to his problems, comfort him after his failures, help him with any scheme he suggests and allow himself to be manipulated in unspeakable ways Butters have a willingness to believe and trust everything Eric says, "he likes to believe what Eric says because he is always willing to support him in everything he does" (this is said in "Rehash")
In "Rehash", Butters mais uma é o único que concorda com Eric and defends Eric in front of Mr. Garrison, Cartman then says "Butters will support me in anything" and ends up saying that Butters is his bitch, and Butters smile and agrees that he is bitch of Eric;
The two characters have very embarrassing moments in "Cartman Sucks"; it is shown that Cartman invites Butters frquently to sleep with him at night, and is taking pictures of Butters for pranks, and in one of these pranks Cartman puts Butters' penis in his mouth and takes a picture, and shows it to the other boys, but ends up being criticized by the boys. Cartman then comes back and tries to put his penis in Butters' mouth, but his father arrives and catches the scene, and takes Butters to the "Bissexual center." Cartman ends up showing the photo to his whole class.
At the beginning of the series, Cartman, like the other boys, didn't like Butters very much, and they used Butters to tease, as in "Casa Bonita", "Freak Strike", "AWESOM-O", "cartman sucks" etc, but we can see in "The Death of Eric Cartman", (Butters helps Cartman apologize to everyone he offended) Cartman personally apologizes to Butters: "Butters, I'm sorry if i ever did anything to hurt you" and Butters forgives Eric without hesitation and he feel really shy, as it does on other occasions, he always ends up forgiving Cartman.
In "Let Go, Let Gov" Butters think that the government that is watching him, and say: "please watch over Mommy and Daddy and my friends Stan and Kyle, Craig, Token.... And even ol' Eric Cartman. I Know he can be a meanie sometimes, but please watch over him, too."
Over time, Butters ceases to be the target of jokes, and becomes Cartman's most important ally in his plans, and your best friend to console he and give advice, Cartman was the only one who maintained a closer friendship with Butters while the rest maintained indifference or something further away with Butters;
Full Episodes revolve around the partnership of the two characters, such as "The Death of Eric Cartman", "Poor and Stupid", "The Chinese Question", etc. or with Butters in the background being Cartman right hand;
Cartman almost never cares about other characters unless he is being fake for some interest, however as in"Eat, Pray and Fart", Cartman shows compassion for Butters after one of the girl farted in Butters face and Butters stays home sick, Cartman visits Butters along with other boys and Cartman gives Butters a gift, and participate in a statewide attempt to ban female gases, with Butters as simbol, suggesting some affection and concern for Butters, for in the end no secret reason behind revealed, as it usually has in relation to Cartman and other characters, as in "kenny dies" Where after several scenes showing concern and affection for Kenny, later revealed that he just wanted to build a pizzeria with what he got;
Another moment was in "Hell on Earth 2006",Cartman is the only one who is concerned about Butters about "being tormented by a spirit",and in "Informative Murder Porn" Butters is crying at school and Cartman is comforting Butters, and in "You're Not Yelping" Cartman takes advantage of his privileges as a gastronomic appraiser to get a special snack for Butters, and Butters fell very happy with the gift, etc;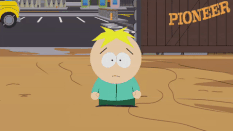 Butters is the only main character who doesn't hate Cartman. And he has an affection for him as in "Problems with Tonsils" where she says that Cartman "is special and will not act differently with him" and ends up giving a kiss on Cartman's face. In episodes like "Poor and Stupid", "Cartman finds love", "Stunning and Brave" etc .; Cartman is at home felling sad about something or in the hospital felling sad and Butters stays with him in both situations holding his hand and comforting him;
In several episodes, we can see Butters smiling when he sees Cartman arriving or passing and always greets him happily, as in ITP, The Death of Eric Cartman, The Scoots (Butters is in the classroom, looking mean to everyone, and Butters immediately smiles afterwards to look at Eric and is very happy;) At various times Cartman tells a joke and nobody is amused, only Butters who laughs exaggeratedly, or everyone gets angry at Cartman, except Butters who agrees with him or believes who he "has a good reason or is innocent "
In addition to Cartman mother and Jimmy's (because it is easier for him to pronounce due to his stuttering problem), Butters is the only character who calls Cartman just by his first name "Eric" which can be another sign of affection, in "Super Hour" and "The death of Eric Cartman", Butters in front of Cartman is embarrassed and moves his leg in a timid pose of shame, thing that he didn't do for any other character besides Cartman;
Cartman in addition to feel comfortable to entrust everything to Butters, such as his secret plans and even his life at various times, Cartman is also intimate on Butters' house, he is often bored or feeling sad and he goes to Butters' house, Eric goes to room and lies down on Butters' bed, and Butters is not surprised at all and Eric's sudden presence, just greets him happily and helps him with anything, whether to cheer him up, giving him advice or just listening to what Eric was getting something off his chest;
Cartman whenever he needs help in any plan or idea counts on Butters, as for being "chinese, pirate, businessman, nascar pilot, invader, part of a band, jewelry seller, rescuer, vape salesman, found a new sport company, etc.," Cartman and Butters have a special dance and music between them for each day of the week, that they always dance and sing together in the cafeteria;
Stated by the official south park studios website: " gradually the two boys have developed a genuine friendship over the years and Butters' naivete seems to have invited Cartman to trust and confide in him in ways he rarely has with the other boys."
"It is the favorite duo of the show creators: Matt Stone and Trey Parker (they said on Twitter on oficial South Park acount);
Interactions
Moments from the show fans cite as evidence of the pairing are as follows:
In "Canada on Strike", Butters is seen supporting himself on Cartman to get out of the taxi;
In "Poor and Stupid" Cartman goes to a race and Buttes helps him get in a car and supports him in the race through the "walk talk", but cartman suffers an accident and Butters feels very worried, at the hospital, Butters consoles Cartman by placing his hand on him and supports Eric's dream, Cartman says he is going to kill himself and Butters scolds him and says "Eric! Never talk like that!", after a long time insisting and cheer Cartman, Butters finally succeeds and opens a big smile when he sees Cartman getting determined again;
In "Truth and Advertising" Cartman and Butters investigating together about Jimmy, and they are going to tell the other boys together what they discovered;
In "Fishsticks", in the perfect imaginary world of cartman, Butters is the first to notice and comment on his incredible accomplishments, according to fans possibly showing that he cares what Butters thinks of him, and in the second version of Cartman's perfect imaginary world, Butters asks for Cartman's help and is very happy to have been saved by Cartman, possibly showing that Cartman likes that Butters needs him;
In "Truth and Advertising" Stan and Kyle are fighting and Butters encourages the fight and Cartman says he is "loving this",and Eric and Butters watch the fight between the two smiling together;
In most episodes, Butters sits next to Cartman in the classroom, even when they go to different classrooms, as in Faith Hilling;
Butters always supports for cartman in fights, as in "With Apologies to Jesse Jackson", "Breast Cancer Show Ever", "Doubling Down" etc;

In "Le Petit Tourette" Butters feel happy to see Cartman in the bathroom, Cartman asks Butters for advice and accidentally telling Butters that he and his cousin once made "sausages touched", and Butters seems very curious about it;
in "Grounded Vindaloop" inside Stan's head, in his virtual reality, he imagines that Cartman and Butters would be "playing together", and Butters boasts to the other boys, because he was playing and keeping a secret with Cartman, showing how Stan sees Cartman's relationship and Butters;
In "Raising the Bar" While the boys speak ill of Cartman, Butters is the only one who feels sorry for Cartman;
In "Sarcastaball" the boys are felling sad because they don't have a coach, but Cartman says "who needs one? we have Butters" and praises him for being the best in the game, the other day cartman goes to Butters' house and asks to enter, which he usually no does, and Butters looks at he very happily and says "sure, Eric", and Cartman get your feelings out to Butters and Butters comforts him and tries to help him by giving him "goo" (sperm) and Cartman ends up drinking Butters' sperm, and then Butters changes Eric's way, making him a good and more positive person;
In "T.M.I" Cartman feel very angry and complaining to the boys, who don't react, except Butters who greets him and smiled sweetly at Eric;
In "Ginger Cow" We can see one more example of how the personality of one influences the other, in this case when Kyle was called to the principal's office, Cartman says nothing, and it is Butters who implies and makes fun of Kyle;
In "Member Berries" cartman looks scared and Butters is the only one who is very concerned about him and asks what happened;
In "The Cissy" Butters confronts Stan because he allegedly "harassed Cartman" and was intolerant of "Eric", Butters curses him and later forbids him from using the bathroom;

in "Skank Hunt", the boys fear the girls and under the influence of Stan, Kyle, Clyde and Craig decide to destroy Eric's things because they think he's cursing people on the internet, and in "Wieners Out" Butters gets tired of the ideas of Kyle blames him and the girls for what happened to Cartman, Butters uses what he learned from Cartman and makes a speech to "manipulate the boys" and starts a movement against the girls, Kyle then asks Eric for help saying that Cartman is the only one who can stop Butters, but Cartman refuses to do anything against Butters, because "Eric is now a changed person" But Butters doesn't like Cartman has changed and feel very angry and disappointed with him (in Oh, Jeez) he also looks fell very angry with Eric's girlfriend and calls her a "bitch" several times, and Butters says that Cartman has become the girlfriend's toy, "Oh God, listen to you, you've changed, Eric, you've really changed"; showing that Butters likes Cartman the way he is, and doesn't want him to change, (in "Stunning and Brave" " we see Butters celebrate the return of the "old cartman" with a bounce of joy). Butters pretends to have changed too and joins Cartman "on the trip to Mars", but there he talks to Cartman and ends up pitting Eric against Heidi, Butters fills Eric's head with ideas against Heidi, saying that Cartman gett duped, and Eric lets himself be manipulated by him, Cartman asks Butters what he should do and, in the end, Butters influencing Cartman makes back to being the old "bad" cartman and consequently leads Eric to break up with Heidi later.

in "The End of Serialization as We Know It" Cartman easily believed everything Butters told him about women and Heidi, and Cartman says he saw the future and Butters easily believes in him too and the two come together to convert more people,(in fact, Eric dreamed of what happened, where Cartman dreamed of "Butters talking to him") and the two support each other to convince more people, Cartman ends up confused and asks what he should do and asks Butters for advice, Kyle calls Butters, and Butters feel angrily at Kyle for getting in the way of him and Eric. Later they start a plan together to destroy the place and they succeed, then we see that Eric no longer feels what he felt for Heide because of the things Butters said to him;
In "Fort Collins" Cartman doesn't like a movie and the first thing he does is send an email to Butters, telling him what he thought of the movie;
in "Stunning and Brave" CCartman asks for Butters' underpants and Butters delivers his underwear very happily, being the only one not to be surprised by the order, after, Cartman tries to intimidate the "Main PC" with Butters' underpants, and Eric smells of Butters' underpants and says that recognizes Butters' underwear by the smell, Cartman ends up being beaten and ends up in the hospital, and while Cartman had nightmares he wakes up scared calling Butters name, and Butters was there holding Eric's hands and says "i'm here, Eric", when seeing that Butters was there, Cartman is reassured, Butters stayed at the hospital caring Eric, Cartman started talking to Butters about how he felt, and Butters comforts him, but then Butters manages to cheer up Cartman, who decides to go back and make one of his big plans with Butters as his ally, and Butters fell very happy with the return of Cartman and takes a leap of happiness;

in "Put It Down" Butters seems to be the only one who is "upset" because Heidi and Eric are dating again, and asks "why did you take her back";
In "You're Not Yelping" Cartman takes advantage of his privileges as a gastronomic appraiser to get a special snack for Butters, and Butters fell very happy with the gift;
In "PC Principal Final Justice" Cartman does a pose on the side of Butters, and Cartman ask "do i look sweet, Butters?" and Butters answers "Yes" smiling to Eric; later, we can see that Cartman and Butters are together watching the Gun Show (and next to Cartman were also Token and Kenny);
In "Holiday Special" Cartman talks about a movie and Butters is the only one who likes the movie too and smiles saying "I love that movie!" for Eric;
In "Informative Murder Porn" Butters is crying at school and Cartman is comforting Butters;
In "Hummels & Heroin" Cartman and Butters play video games together while the other boys watch, after Stan wants the boys to help him, but Butters, Cartman and Kyle refuse, so Butters only agrees to help when Cartman takes the initiative and creates a plan;
In "South Park: Bigger, Longer & Uncut" Cartman asks "who wants to touch me" and Butters is the only boy who goes and touches him, and keeps passing the hand on hand of cartman's hand, later when the kids sing with Mr Mackey, The two were sitting together, they look at each other and smile at each other while they sing;
In "Super Hard PCness" When Cartman fights Heidi, Butters is the only boy who seems to be rooting for Cartman, the others wanted to see Eric being beaten;

In "Sons a Witches" the boys are talking at the table and Cartman ignores the boys, but Butters insists on talking to him and asks for his opinion on what Cartman thinks the boys should do, and Cartman undoes his evil face to hear him, and with an evil- understood Cartman ends up understanding that Butters is claiming that Eric should get rid of Heide, and Cartman ends up agreeing with Butters' idea, later the boys are trying to think of something, and Cartman comes up with a plan. Butters, excited, says "I knew Eric would come up with a plan!";
In "Rehash" Butters but once is the only one who agrees with Eric and defends Eric in front of Mr. Garrison, Cartman then says "Butters will support me in anything" and ends up saying that Butters is his bitch, and Butters smile and agrees that he is bitch of Eric;
In "Dead Kids" Butters is being the hall monitor and is very scared, but when he is called and sees that it is Eric he fell very happy, and Cartman says he needs his help, and Butters agrees to help him and offers to help Cartman study, then a school shootout takes place and Butters defends Cartman
In "A Boy and a Priest" Cartman defends Butters, because Clyde was angry at Butters for bringing the priest;
In "Tegridy Farms" Cartman and Butters are together selling "vape" to the kids, and Kyle ends up finding out and Butters and Eric trying to reason with him, but Kyle is not convinced and says "" you're such penises", the two manage to convince him later, Eric and Butters at the table with the other boys, initiate a dialogue between them to try together to convince the other boys to use Vaper, so Kyle tries to help the two who owe money, but Butters and Eric make a plan between them and carry a body to try to frame the dealer, and while Cartman called the police Butters hit the dealer, then Cartman and Butters are seen together talking to Mr. Mackey about "about some college opportunities" and Kyle arrives and Cartman and Butters again try to convince him, and then they will together destroy the vape factory, but Kyle ends up handing Cartman and Butters to Stan dad;

In "The Scoots" Butters is in the classroom, looking mean to everyone, but he and Cartman suddenly look at each other, and Butters immediately smiles after looking at Eric and fell very happy;
In "Band in China" Butters fell happy to see Cartman returning from migrant detention camp, later Cartman agrees with Butters about supporting Stan against China;
they're neighbors, you can see, when showing their houses in different angles, or realize by some things that they speak, but it is much more noticeable in games "The Fractured But Whole" and "Stick of Truth";
In "Shots!!!" Cartman only tells Butters about being banned from school, and Butters says Eric called and told about how he felt;
in "Season Finale" The boys are playing football together, and Cartman is swearing and the other boys are all bothered by Eric taking time, except Butters, he is smiling at Cartman, later at "Randy's prison party" the two are playing together with Stan running around the house, "the Whites" arrive and make a speech, and Butters laments to Eric, and Eric agrees with Butters, and is saddened by what Butters said, decides to help "the whites";

In "Board Girls" Butters is next to Cartman playing with other table rpg boys, but they are hindered by thegirls, and Butters goes with Cartman to complain to Mr. Mackey and the two together try to argue with him, Scott Malkinson accompanies them, at cafeteria Butters and Eric complain together about the girls, then Cartman and Butters have an idea of playing violent games but without math and they are fell very happy with the idea together and look at each other smiling, then they are playing together again with other boys, but their plan goes wrong, and the two together with Scott, went to a court to give a speech to stop the girls, Butters in the middle of the speech ends up embarrassed Eric and Cartman just looks at Butters and Butters already realizes that he wavered;


In "Let Them Eat Goo" Butters and Eric are together in the cafeteria line and sing and dance to a song they did to celebrate "Sloopy Joe Day", which is Eric's favorite day, Butters says it's his favorite day too, and the two stop and start to dancing again and singing together, very happy, but the school changed the food, and Cartman and Butters are very disappointed, and furious fight with the girls, Butters realizes that Eric is getting nervous and feels worried about him, Butters tries to calm him down saying that everything is fine and placing your hand on Eric's shoulder. Cartman starts to feel bad and Butters is very worried about him, Eric passes out and is taken to the hospital, when Cartman goes back to school, gets in a wheelchair, and Butters takes care of Eric and pushes him in the wheelchair, Butters says "Get started! Make way!" while pushing Cartman through the school, then other protesters confront Eric but Butters tells Mr Mackey stop them;

In "Let Them Eat Goo" Wendy starts a speech away in the cafeteria and Cartman gets fell angry again and goes to bicker with Wendy, and Butters runs and tries calm him and reassure Eric several times , and gets very worried about Eric, Cartman asks Butters for help "don't let me die Butters" and Butters starts screaming for help from other people, Cartman falls and Butters tries to hold him in his arms, when Cartman returns from the hospital, the school tries to trick Cartman with "fake meat", but Butters fell really bad about lying to Eric, and Butters ends up telling the truth, "Eric, I .... I just hate lying to you", and takes Cartman to the origin for the new flesh, and Butter fell very concerned about Cartman's reaction, but Cartman is not fell angry and apologizes to everyone;
In "Let Them Eat Goo" In this ep we can see that Cartman and Butters have a special dance and music between them for each day of the week, that they always dance and sing together in the cafeteria, which surprises Eric when Butters seems not very excited, because of that Cartman feel worried about him, and asks Butters if something is going on, and Butters says he is sad to be hiding something from Eric, "because he hates lying to Eric";

In "Basic Cable" Scott Malkinson asks Cartman for help with a girl, and Cartman tells Scott the same thing Butters said to Cartman in "The End of Serialization as We Know It" ;
In "Apecial Pandemic", Cartman is the only one who supports Stan with the idea of helping Butters, to get things "back to normal", Stan was holding Butters, but Cartman withdraws Stan, so he can hold Butters.;
In "Special Vaccination" Cartman to defend Butters, Cartman confronts Butters' father and threatens him (in promotional scenes) Cartman makes a joke with the teacher that most of the class doesn't like, but when the boys pass in front of Butters house , Cartman tells him what happened and Butters finds it very funny;
Stick of Truth
Cartman is the Wizard King, and his closest ally is Butters (paladin), at the beginning of the game Butters will introduce Eric to the "new boy", and Butters upon seeing Eric greets him saying "all hail the Grand Wizard!";
Butters fights elves who were trying to steal the "stick of truth" and injured he runs after Eric, and Cartman protects him;
Cartman was the one who taught Butters to fight, and Cartman says he had to be very patient for teaching Butters;



In Giggling Donkey Cartman is captured and injured, Butters heals his "wounds" and comforts him, holding Cartman in his arms;
At the "Human and Elf meeting", Cartman in the middle of the meeting, makes jokes for Butters, and the two laugh together, Stan gets angry and attacks Cartman, but Butters defends Cartman and attacks Stan, and helps Eric to argue with the Elves, and Cartman thanks "Yeah, you-you tell 'em, Butters";

Butters sees Cartman's wardrobe, and there are things like the robot costume that Cartman wore when he spent several days "being Butters' best robot friend" Butters seeing eric's things praises them "wow, Eric has a lot of cool stuff";


In Butters' closet we can see that he keeps the statue he made of Eric in the episode "Casa Bonita";
Butters is losing the fight against an Elf and Cartman feel worried and says "you are losing Butters, stop losing" but butters responds "I don't want them to feel bad";
Butters often leaves the character and ends up saying "twitter" instead of "messenger crow", at first Cartman gets angry, but later then he becomes tolerant, and just kindly corrects him;
The Fractured But Whole
In combat when Coon is falls in the fight, Butters thinks Cartman is cute and says: "Aww, the Coon looks like a sleepy kitten."
Butters, seeing Cartman's attacks, praises "" You hit like my grandma. "Although Cartman doesn't understand;

When Butters defeats an enemy, Cartman praises him "Savor my begrudging respect, old nemesis" and Butters is very happy with the compliment " Oh boy, begrudging respect! That's the nicest thing you've ever said to me."

looking at Cartman's closet, we see that he keeps a bottle of Butters' semen;
Cartman has a secret notebook featuring various drawings of Butters involved in sexual acts;

In a fight Cartman is concerned that Butters will use all his power and run out of: " Don't blow all your Chaos in one load, Professor! "and Butters replies "Don't worry. Lots more Chaos where that came from!"
Cartman notices Butters' speeches during the fights and answers them, which results in moments like these:
Butters: " Muwahahaha !! Remember this day, for it is the day you die! "
Cartman: "How can they remember it if they're dead?"
Butters: "They ... uh ... Oh darnit."
Butters praises Cartman in the fights but calls him a temporary ally, "very well my temporary ally", but while Cartman gives something to Butters in the battle, he asks Butters to remain his ally "Stay with us, professor"

When the boys accuse Cartman of kidnapping the parents of the "new kid", everyone gets angry at Eric except Butters, who still believes in his innocence;
When Cartman is captured and tortured, Butters is the only one who is saddened by the situation
In the fight against Mitch/Eric, Butters defends Cartman's innocence "Maybe Mitch Conner really has taken the Coon captire" and Cartman says "See? Professor Chaos gets it."
When Butters is grounded with the "new Kid", Butters plays a song that Cartman invented in the episode "Jakovassaurs";
Deleted Scenes
Debates
Toxic/abusive?
Some fans of other ships say that their relationship is bad for Butters, because of the events of the first seasons of the series (where all the boys did not like Butters), but watching the episodes and seasons in order, one can see the great evolution of the relationship between Butters and Cartman, to the point where they are best friends today, Butters forgives Eric for things Eric has done to him in the past in the episode "The Death of Eric Cartman" and Butters keeps in his closet the statue he made of Eric in "Casa Bonita"). Other fans say their relationship is bad for Butters because of Eric's manipulative and dominating personality, but we see that Butters likes Cartman to be like that, proof of that is when Eric changes to become "a good boy"and Butters doesn't like that Cartman has changed, Butters felt very angry and disappointed with Cartman (s 20 ep 7 - Oh, Jeez) and in "Stunning and Brave" " we see Butters celebrate the return of the "old cartman" with a bounce of joy, and later Butters convinced Eric to "go back to being bad" at the end of season 20; don't confuse their relationship with the cliché of Mimsy and Nathan's relationship, Butters is not stupid, he does not easily believe the words of other boys like Kyle and Stan;
- "he likes to believe what Eric says because he is always willing to support him in everything he does" (this is said in "Rehash" ans in South Park Studios)
- We can see the change in their relationship in the most current episode that explores their relationship, in "Let Them Eat Goo", where they have a very affectionate and healthy relationship, Cartman respects and considers his relationship with Butters a lot, in terms of confronting Butters' father to defend him. (in "Special Vaccination") so it doesn't make sense to ignore all the development that the creators do during several seasons;
- remembering that South Park deals with much harder and more sensitive subjects than "abusive relationship between children", because that's how creators convey the messages they want and make the humor of show, the final is a show for over 16/18;
Fatphobia
A lot of people just hate the shipp because Cartman is fat and "Butters wouldn't be okay with fat boy", and they simply prefer "skinny pretty" couples, this is clearly a very sad thing, showing the problems of fatphobia, we get to see many (even among those who ship the couple) drawing Cartman in lean versions or much less fat than what is actually shown in the series;
Sexual Preference
this is one of the few Slash shipps from South Park that the sexual orientation of the two characters combine, but Eric and Butters are confirmed or hinted as Bisexual at various times in the universe of the series, as in "Le Petit Tourette" Cartman without wanting to tell Butters that made out with his cousin, and in "Tweek x Craig" Eric is confused by his sexuality and masturbates imagining being in gay sex;
In "Awesom-O", Cartman was videotaped making out with a Justin Timberlake cutout, etc. Butters in episodes like "Cartman Sucks" he is suggested as bisexual (bi-curious) after being caught by his father, nearly putting Eric's penis in his mouth, then at the end of the episode he declares himself "bi-curious" although he doesn't seem to understand what he's saying, and in "The F Word" he is also suggested as bisexual, where he joins the "fags" movement and declares himself a "Bike-curious", the official South Park account makes jokes about this game of words. , In "The Stick of Truth" Butters flirts with the new boy (your character in the game)

moments gallery
External Links