Bradley Biggle
Character Information
Gender
Male
Hair
Blonde
Eyes
Blue
Age
10
Occupation
Student
Appearances
Debut Episode/Fic
"Rainforest Schmainforest"
Final Episode/Fic
"Coon vs. Coon and Friends"
Bradley Biggle (also known as Gok'Zarah) is a boy in the fourth grade class of South Park Elementary in South Park. He was notable for being the only student with the same golden blonde hair color as Kenny McCormick - he made his first significant appearance in "Coon 2: Hindsight" as a member of Coon and Friends.
Bradley has a mixed following in the fandom, with many seeing him as stealing Kenny's spotlight at the end of the Superhero Arc, while others enjoyed the ending and find him a humorous character.
Please visit his article on the South Park Archives for more information.
Appearance
His hairstyle is a bowl-cut, with a cow-lick sticking up at the back of his head. He wears a navy blue sweater with red mittens and blue jeans.
Personality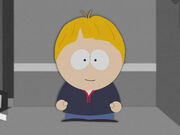 Bradley seems to be bright and is very active. He appeared mostly as a background character uptil the Superhero Arc. Bradley is the true identity of Mint-Berry Crunch, later identified as Gok'Zarah. As Mint-Berry Crunch, he was bullied by The Coon until he discovered his power, whereupon he put the Coon in with Professor Chaos in a dog crate.
External links
Community content is available under
CC-BY-SA
unless otherwise noted.