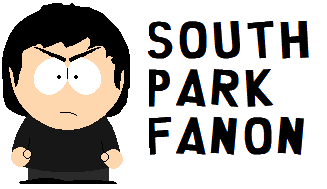 Welcome to
South Park Fanon Wiki
, the free encyclopedia for fan-created
South Park
content that anyone can edit! This encyclopedia contains information on fanon terms, pairings, original characters, fanfiction, and soon, fan artists. All users are welcome to create and edit articles about their own and others' original characters, fanfics and pairings set in the same universe as the long-running South Park television series! Feel free to comment on others and share your work with the world -- and have fun! Just remember to read the
Rules and Policies
and respect other users! Since this wiki was started on June 17th, 2008, users have created over 1,656 articles.
Featured Article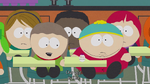 Heiman
is the romantic pairing of
Eric Cartman
and
Heidi Turner
. The pairing first appeared after the two characters were paired up together in the episode "Follow That Egg!" and seemed to get along rather well, aside being Heidi's initial moan of 'Awwww!' on being partnered with him. After breaking their egg, Cartman admits to his wrongdoing and pleads with
Mrs. Garrison
to change Heidi's grade to a well-deserved A and his to an F when he breaks his egg, though he hopes this will lead to a positive average for both. Heidi's superficial behavior in the ninth season was seen by some fans as a mirror to Cartman's behavior. The characters also interacted in "Probably", "Marjorine", and "Stunning and Brave". The two characters are a key focus of the story arc of Season 20, however, during which they became close friends, and eventually begin a romantic relationship in "The Damned" which has thus far remained
canonical
.
Read the full article, here
Suggest the next featured article right here!
Getting Started
Rules and Policies - The rules governing South Park Fanon. This is important for all users!
We're working on a new Manual of Style as well - stay tuned!
Projects - Want to get involved in some projects? Take a look at some pre-existing ones or create your own!
Check the Blogs area out -- comment on other users' work or post your own South Park fanfiction!
Visit the Discussions area -- talk about hard-hitting South Park issues with other fans!
What's New?
December 22, 2018: Happy holidays, South Parkateers! Want to share fanfics or fan art for your favorite pairing? Check out the Crenny page to see a prototype for an experimental new format to make sharing easier. The format may look simple, but it's taken a lot of staff thought to come up with something that respects the original authors' credits and content. Feel free to copy this system on other pairing pages, as long as you have recommendations to include! Happy editing! ~John
July 28th, 2017: How does everybody like the new main page so far? It's a little less flashy but it's much easier to manage behind the scenes, and integrates our new Discussions feature as well! ~John
Coming Soon.
Coming Soon.
Community content is available under
CC-BY-SA
unless otherwise noted.