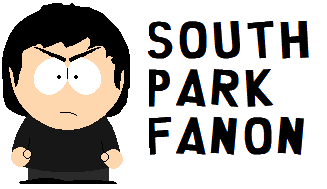 Welcome to
South Park Fanon Wiki
, the free encyclopedia for fan-created
South Park
content that anyone can edit! This encyclopedia contains information on fanon terms, pairings, original characters, fanfiction, and soon, fan artists. All users are welcome to create and edit articles about their own and others' original characters, fanfics and pairings set in the same universe as the long-running South Park television series! Feel free to comment on others and share your work with the world -- and have fun! Just remember to read the
Rules and Policies
and respect other users! Since this wiki was started on June 17th, 2008, users have created over 1,746 articles.
Featured Article
Suggest the next featured article right here!
Getting Started
Rules and Policies - The rules governing South Park Fanon. This is important for all users!
We're working on a new Manual of Style as well - stay tuned!
Projects - Want to get involved in some projects? Take a look at some pre-existing ones or create your own!
Check the Blogs area out -- comment on other users' work or post your own South Park fanfiction!
Visit the Discussions area -- talk about hard-hitting South Park issues with other fans!
What's New?
November 17, 2019: After eleven years running this wiki, I am in the process of resigning and locating a new administrator. I have been unable to repair the site's current errors and am no longer interested in this show or this fandom. When a new administrator is confirmed, I will resign all authority. Thank you in advance. ~John
Coming Soon.
Coming Soon.
Community content is available under
CC-BY-SA
unless otherwise noted.